Boots are a must-have in every woman's wardrobe. They are functional and waterproof, adding femininity and elegance to any look once combined with a nice pair of jeans or a simple dress. Sure, there is no denying that the most attractive and alluring boots are knee-high, high-top boots that will remain in fashion no matter how much time goes by.
In 2023, women's boots will remain in style regardless of their type. There are many types of boots for women to choose from on the market. You can also look at some women's boots in the guide below. The right pair of shoes can conquer the world, and women have matching boots to do that. You can wear proper boots with any clothing, from a dress to a coat to a casual outfit.
Here are 12 types of women's boots that will help you improve your footwear game.
1.  Ankle Boots
Women's ankle boots are the most popular fashion trend. They'll look great if you wear skirts, dresses, jeans, or shorts. Ankle boots come in a variety of styles and colors.
The pointed ankle boot is the most popular style. It gives your legs a long and lean appearance. It's also comfortable because it sits close to your foot with no extra room for your toes to move around.
Also, you can update your look with holographic ankle boots. The boots are a bright and shiny way to make you look trendy. They're perfect for a night out on the town or an everyday outfit that needs a little sprucing up.
If you wear them with jeans or leggings, try pairing them with a black top or dress for a more formal look. Also, try pairing them with distressed denim if you want something more casual.
Ankle boots come in many different heights; some are higher than others, and some sit lower on the ankle. Some styles have laces or buckles with straps around them. At the same time, others have elastic bands or panels built into them to make them easier to put on and take off.
2. Knee-High Boots
Knee-high boots are among the best fashion trends for 2023 if you're looking for style and functionality. Whether you're going to work or want to wear them with a casual outfit, these boots are perfect for any occasion.
The best thing about knee-high boots is that they're so versatile. You can pair them with almost any outfit by wearing them with anything from jeans to dresses and skirts. You can wear them over leggings or tights if the weather gets colder.
Also, if you want high-heeled boots that stand out, look no further than holographic knee-high boots. Holographic boots are an excellent option for those who want their footwear to shine. Also, to be eye-catching, these boots reflect light based on their angle, making them more than good-looking.
3. Over-the-Knee Boots
Over-the-knee boots are a great way to add extra height to your look without breaking the bank. Suppose you're looking for a pair of over-the-knee boots that are both comfortable and stylish, in which case holographic thigh-high boots are a perfect choice.
The holographic boots are the ultimate statement shoe for any occasion. They look great when paired with jeans or shorts. Yet they also work well with skirts—and if you want to dress up an otherwise casual outfit, they're a great option too.
Over-the-knee boots come in several colors, including black, white, and blue, so you can choose something that matches your style. They also have an outer sole containing unique grooves that help keep your feet dry when walking through wet areas or puddles, which is great if there's been rain recently.
4. Combat Boots
Combat boots have a timeless design that has been popular for decades. They are a go-to option for many women, but the style is so versatile that you can wear them in various ways. You can dress them up with skinny jeans or a skirt. The possibilities are endless!
In addition to coming in various styles, combat boots are an essential part of any wardrobe. Holographic combat boots are an excellent option for anyone looking to add some flare to their look. These boots come in various colors and trims so that you can find the perfect pair; besides, they are also very comfortable. They also have a zipper closure for easy on and off.
5. Chelsea Boots
Chelsea boots are ankle-length boots with a heel. They're made from leather or suede. Yet in today's world, you can find them made from all sorts of materials, including leather and suede, canvas and leather, neoprene, and vinyl.
These days, you can find Chelsea boots in about every color under the rainbow. You can find them in leopard print and zebra print as well.
If you're bold, try out some black holographic boots for Chelsea. They'll add fun and excitement to your look while being versatile enough to go with anything in your closet.
6. Cowboy Boots
Cowboy boots are the most popular style of boot for women. It is possible to make cowboy boots from various materials, including leather, suede, and rubber. The material they originate from will dictate their durability, comfort level, and price. If you're looking for more boots, holographic cowboy boots are perfect.
Holographic cowboy boots are an excellent option for women who want something different and exciting but still practical. These shoes consist of leather or suede and have a sleek appearance.
A holographic effect uses foil, which gives these boots a unique look. The foil comes out in any color imaginable, so you can choose the one that suits your style best.
7. Rain Boots
Rain boots are a go-to for women who want to embrace their inner outdoorsy spirit. They're functional, stylish, and perfect for those days when you need to get out and get dirty. Rain boots are also great for keeping your feet dry in the rain. So if you're looking for an alternative to those classic galoshes that never seem to work well enough, these are worth a try.
There are several different types of rain boots on the market today. You'll find ankle-high boots, knee-high boots, rubber boots, leather boots, rubber-tread boots, and metal-stud boots—all of which will keep your feet dry in the rain.
You can't go wrong with a pair of pink holographic boots when it comes to rain boots. These are the most fun and flirty options. They're perfect for a night out or running errands around town. You'll want to ensure that they're well-made and comfortable—they should be waterproof and comfortable if you plan to wear them all day long.
8. Workboots
Workboots are the most common type of boots that you can find in fashion trends for 2023. These boots consist of leather and have sturdy soles. As well as protecting your feet from water and mud, they provide adequate ankle support as well.
The workboots are available in different styles and colors, so you can choose the one that fits your style and preferences. Some women wear these boots with jeans or dresses, while others prefer shorts or skirts.
Suppose you're looking for boots that stand out from the crowd. The silver holographic boots are the perfect choice for a woman who wants to look like she's got her life together. These boots come with a metal material that is both durable and fashionable. You can wear them with anything from jeans to dresses, so they're great for any occasion.
The silver holographic boots are also comfortable. It is essential when you work long hours on your feet in an office setting. You don't want to worry about your feet hurting or becoming sore throughout the day, so these boots will make sure that doesn't happen.
9. Holographic Boots
Holographic boots are the most fashionable holographic boots for women. They are made of synthetic fabric and foil that is reflective. These materials give them a unique look that you haven't seen in any other shoe. The holographic foil adds extra shine and glam to your outfit and makes you stand out in a crowd.
10. Dressy Motorcycle Boots
Motorcycle boots are an excellent option for women who want to look fashionable and still be comfortable. These boots come with a heel, but they're pretty high. The heel is between 2 and 3 inches, meaning you can wear them all day without your feet getting tired.
You can choose from so many different styles of motorcycle boots! You can find dressy motorcycle boots, casual motorcycle boots, and combat-style motorcycle boots. All these styles have a unique look that can help you stand out in any crowd.
Furthermore, if you are looking for a pair of boots that will make your clothing look amazing, You should get some holographic boots. These boots have a hologram effect that makes them stand out from the crowd. They come in many different colors and styles, so you can find one that matches your style. These boots will be perfect for you if you want to ensure that your outfit will stand out from the crowd.
11. Lace-Up Boots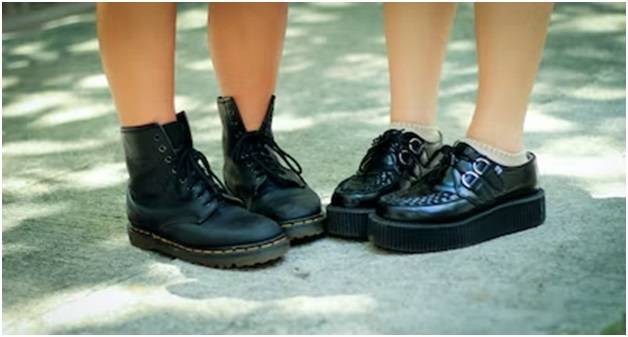 Lace-up boots are versatile and can look great dressed up or down. They're perfect for wearing a skirt, but you can also wear them with jeans and a tee. They can be casual or formal, depending on how you pair them together.
The best thing about lace-up boots is that they're so easy to get on and off. Just pull the laces to loosen them and pull them off over your heel. They're the perfect boot for a quick trip to the store or running out to grab dinner.
Also, women who want to make a statement with their footwear should consider holographic lace-up boots for fashion trends. With these boots, you can be sure that you'll stand out in a crowd! They come in many different styles, including high-top and low-top versions. The high-top version is best for rainy days because it offers more protection from the elements than its low-top counterpart. It also provides more ankle support, which is essential when walking on slippery surfaces like wet grass or snow.
People Also Ask
What types of boots are in style for 2023?
The most popular styles of women's boots are riding boots, ankle boots, knee-high boots, and Chelsea boots.
How do I know which boots are best for me?
The best way to know what boots are right for you is to try them on. Each style has a different fit and feel. So it's essential to try on a few different types, including the correct size for you and your comfort. Also, check the flexibility and the material for a shoe that suits your style before buying it.
Is it better for boots to be tighter or looser?
It depends on your preference. Some women prefer looser boots, while others like them tighter. But here's the thing: if you want your shoes to be more flexible and comfortable, don't wear a size larger than what you normally wear. If you need to go up a size, get an insole or something that will make the boot feel more comfortable.
Wrap Up
Boots are the most versatile and in-demand type of shoe out there. Their popularity is that boots look stylish, and you can wear them in all styles, from casual to professional. Yet, you must select the perfect boot for your feet to maximize your experience wearing them and ensure you look fashionable. Thus, when planning on buying a new pair of boots and before making your final purchase decision, take time to understand what every boot style has in store for you.