Podcasts have become very popular in recent years. 79 percent of Americans are now aware of podcasting. Many factors play a role. One reason is the increasing availability of high-speed internet and mobile devices. This has made it easier for people to access and listen to podcasts.
Another reason is the wide range of topics covered by podcasts, which means there is something for everyone to listen to. Podcasts are also a very convenient way to consume content. They can be listened to while doing other activities, such as driving or exercising.
Podcasts are audio files that are available online for downloading to a computer or mobile device. They usually consist of a series of episodes that can be subscribed to by users. And new episodes are automatically downloaded to their devices as they become available.
Podcasts are typically audio-based, but some may also include video content. They cover a wide range of topics. They are often produced by individuals or small groups rather than by traditional media organizations. Podcasts can be accessed via a variety of platforms. These include computers, smartphones, and tablets, as well as specialized podcasting apps.
A podcast can be a quick and easy way to contribute to social change. It can allow you to lend your voice to trending issues. It can provide you with an opportunity to air your opinions about social issues that affect a specific group of people.
In this article, we will be looking at why you should start your own podcast and what you need to know about starting your own podcast.
Why You Should Start Your Own Podcast
Starting a podcast can be a rewarding experience for many people. Here are a few reasons why you should consider starting your podcast:
Reaching a wider audience: Podcasts can be downloaded and listened to by anyone with an internet connection. This will allow you to reach a potentially global audience.
Connecting with listeners: Podcasts allow creators to have a more personal and authentic connection with their listeners. You can share your thoughts, experiences, and stories in a way that is similar to having a conversation.
Flexibility: Podcasts can be created and distributed quickly and easily. This makes them a convenient and flexible way to share content.
Building a community: Podcasts can help creators build a community of listeners who are interested in the same topics. This way, they can engage with you and each other through social media or other online platforms.
Monetization opportunities: While you may not be thinking about making money right now, there are a variety of ways that you can monetize your content. These include sponsorships, advertising, and merchandise sales.
Overall, starting a podcast can be a great way to share your ideas, connect with others, and potentially even grow your career. If you're passionate about a topic and enjoy creating content, it can be a fulfilling hobby or even a side hustle.
Important Tips for Starting Your Own Podcast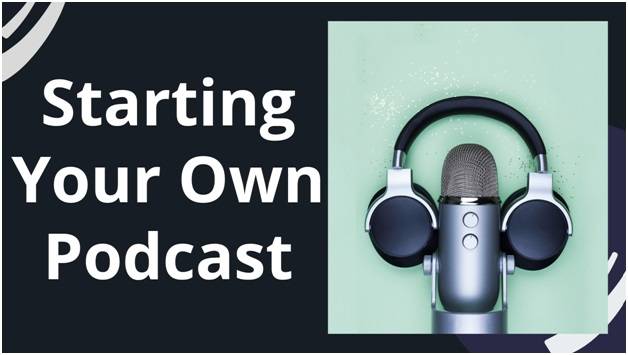 If you have a unique perspective or area of expertise that you want to share with others, if you enjoy talking about a particular topic and want an audience to engage with you, or if you want to build your brand or increase your visibility in your industry, then a podcast is for you. Here are 7 important tips for starting your podcast:
1. Get a Subscription Platform
A podcast subscription platform can be important for several reasons. First and foremost, it provides a way for listeners to financially support your podcast; this can be especially important if you are producing the podcast as a full-time or part-time job.
A subscription platform can also help to build a sense of community among your listeners. It provides a way for them to stay up-to-date on new episodes and interact with each other. Another important reason to use a podcast subscription platform is that it can help increase the visibility of your podcast.
It can make it easier for new listeners to discover and subscribe to your show. A podcast subscription platform can also provide a way for you to offer bonus content or other perks to your subscribers. This, in turn, will help to build loyalty and keep them coming back for more.
2. Pursue Your Passion
Choosing a topic that you are passionate about is another important aspect of starting your own podcast. Your passion is what will keep you motivated and interested in creating new content. Without passion, it may become a chore to come up with new ideas.
Soon, it will become difficult to stay motivated to create new episodes regularly. Additionally, your passion for the topic will come through in your content and make it more engaging for your listeners. If you are genuinely interested in and excited about the subject matter, this enthusiasm is likely to be contagious.
It can help keep your listeners coming back. Choosing a topic that you are passionate about can help ensure that you enjoy the process of creating your podcast. You will also be able to churn out better-quality content.
3. Consider Your Target Audience
Considering your target audience will help you tailor your content and promotional efforts to better appeal to the people you want to listen to your show. Knowing your target audience can help you understand what types of content they might be interested in. It will help you learn how to effectively promote your podcast to them.
For example, if your target audience is composed of young professionals, you may want to focus on topics that are relevant to their interests. And you may also want to promote your podcast through channels that they are likely to use, such as LinkedIn or professional industry websites.
By knowing who you are trying to reach, you can better tailor your content to meet their needs and interests, which can help you build a loyal and engaged audience.
4. Invest in Good Equipment
While you don't need to have the most expensive equipment to create a podcast, it is important to have high-quality audio. This will help you to produce a podcast that is enjoyable to listen to. Poor audio quality can be distracting for listeners and make them less likely to continue listening to your show.
Investing in good equipment for podcasting can also save you time and frustration in the long run. Higher-quality equipment is often easier to use and may be less prone to technical issues. This can help you focus on creating content rather than dealing with technical problems.
Additionally, using good equipment can give you more flexibility and control over the sound of your podcast. For example, a good microphone can pick up your voice clearly and cut down on background noise, which is important for making a show that sounds more professional.
5. Be Consistent
Being consistent is important when starting your podcast. This is because it can help you build and maintain an audience. If you are inconsistent with your release schedule, it may be harder for listeners to know when to expect new episodes. This can make them less likely to continue listening to your show.
Being consistent can also help you establish yourself as a reliable source of information or entertainment in your niche. This will go a long way in helping you attract and retain listeners.
Additionally, being consistent can help you stay organized and keep your podcast on track. By setting a regular release schedule and planning out your content in advance, you can ensure that you have a steady stream of content. This will help you focus on creating high-quality episodes.
6. Promote Your Podcast
The goal of starting a podcast is to amplify your voice. So promoting your podcast is how you will reach a wider audience and attract new listeners. Promotion is especially important to build an audience and establish yourself in your niche.
By effectively promoting your podcast, you can attract new listeners and increase your visibility. There are many ways to promote your podcast, such as through social media, your website, email newsletters, and other online platforms.
You can also reach out to other podcasters or industry professionals to collaborate or cross-promote. Promotion is also important for keeping your existing listeners engaged and informed about new episodes. By promoting your podcast regularly, you can remind your listeners that new content is available and encourage them to tune in.
7. Engage With Your Listeners
Engaging with your listeners is important for several reasons. First, it helps to build a sense of community among your listeners. This can foster loyalty and encourage people to continue listening to your podcast.
Second, engaging with your listeners can help you better understand their interests and preferences. This can inform the content and direction of your podcast. Engaging with your listeners can also help spread the word about your podcast and attract new listeners. This can be especially important if you are just starting and trying to build an audience.
Conclusion
Starting your own podcast can be a rewarding and exciting experience. It does, however, require some planning and effort. It is important to choose a topic that you are passionate about and that will appeal to your target audience.
You should also consider the format and length of your podcast, as well as how often you will release new episodes. You will also need to invest in the necessary equipment and software to produce high-quality audio.
Marketing and promoting your podcast can also be critical to its success. So it is important to think about how you will reach potential listeners and encourage them to tune in. Finally, engaging with your listeners and building a community around your podcast can help foster loyalty. It can ensure that your show continues to grow and thrive.