There are so many amazing things to see and do in Orlando, but many of those activities end up becoming quite costly. Not only will you want to focus most of your budget on day passes, tickets, events, and transportation, but you also don't want to skimp out too badly on accommodation.
Getting an affordable place to stay is a great way to put more of your trip's budget towards experiences. Before you look for the absolute cheapest accommodation option, know that there is more than one way to save on your accommodation cost.
If the hotel or resort you book has enough fun amenities, you can stay right on the property for a day or two out of your trip. For example, you can get more value out of your stay and usually save overall. It can be hard to go out to the theme parks every day and try to stay busy from morning until night. By instead building in some relaxation time, you can get more out of your trip and your budget.
Another great way to save on your accommodation without opting for the cheapest and, in many cases, worst options around is to book a suite. Sounds counterproductive. However, suites can usually house your entire family, and they come with home comforts like a kitchen and washing machine.
With a suite, you can save by making more meals at home than solely eating out. You can also save on luggage costs if you're flying in since you can wash your clothes and wear them instead.
There are many ways that you can save by actually enjoying a luxury experience, but the biggest way to save is by understanding the different areas in Orlando and where you want to book based on the type of trip you're looking to have.
Top Hotels to Book Today
Knowing which area you want to stay in based on your needs (proximity, budget, quiet, design) is a great way to start your search. There are hundreds of hotels to choose from, but if you're looking for a great, budget-friendly option that will let you have it all, then book one of these top hotel options:
1. Westgate Vacation Villas and Town Center Resort
This property is home to two Westgate Resorts to combine amenities and give guests a host of accommodation options.
If you're looking for affordable luxury, then look no further than westgateresorts.com. This hotel chain has seven different hotels and resorts in and around Orlando, available at different price points. This double-resort option is ideal for those with large groups looking for ways to save in luxury. Not only will you have a variety of accommodation options, from rooms to suites to even villas, but there are also many excellent things to do on the property to keep your whole family entertained, even on quiet days.
You'll be a short 3.5 miles away from Disney World when you stay here and just 14.9 miles from Universal Orlando. If you want to save, stay on the property. Not only are there luxury amenities like a spa, but you can also enjoy their onsite waterpark. Tickets for the waterpark are just $20 extra, so your kids can enjoy their water-filled fun, and you can enjoy your time at any one of Westgate's pools or hot tubs.
2. Hyatt Regency Grand Cypress
This family-friendly resort offers many kid-friendly programs to keep them entertained even while the parents enjoy a quiet time by the pool.
Another hotel right next to Disney World is the Hyatt Regency Grand Cypress. One of the major draws to this hotel for families is its Camp Hyatt. This camp gets your kids outside and making friends while they have fun playing games and going on adventures. Your kids will get up to swimming, boating, rock climbing, and more.
3. Bohemian Celebration
This picturesque hotel sits lakeside and is perfect for couples looking for a romantic getaway for less.
This hotel sits next to Lake Rianhard and is right next door to both Celebration and Walt Disney World Resort. You'll be 7 miles from the park, and if you are into golf, just a short 0.5 miles from Celebration Golf Club.
The hotel itself is beautiful and updated, meaning you'll get all the modern amenities you've come to expect, including Wi-Fi, flat-screen TVs, and tea and coffee in your room, plus a few extras. All rooms here, for example, have Bose radios for superior sound quality.
This hotel even has its own art gallery, so you can soak in the art and culture of the area while you enjoy a quiet, luxury experience for less.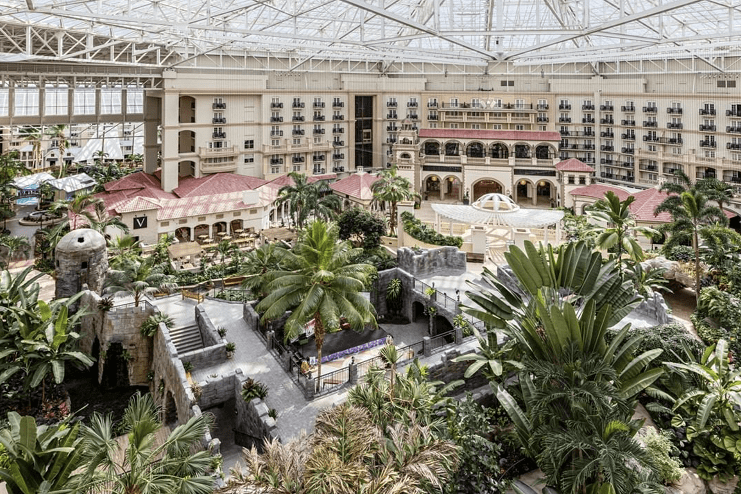 4. Gaylord Palms
This beautiful hotel and resort has its own glass atrium garden and golf course, all while being just over 3 miles from Walt Disney World Resort.
If you're looking for a beautiful hotel that has everything you could need for a luxury stay, without having to leave the grounds, this hotel is it. This resort has three restaurants, two bars, and a café to keep you well fed, though if you want to make your own meals you can also upgrade to a suite that comes with its own kitchenette and living room.
There's a lot to enjoy here, like the adults-only pool, a family-friendly water park, a spa, and more. If you play golf you will love the golf course, and if you or your kids love animals you will be delighted to know you can feed baby alligators here.

When it comes time to go to Disney, use the shuttle services, as transportation is included with your resort fee.
5. Wyndham Bonnet Creek Resort
This Bonnet Creek resort is a great destination offering upscale accommodations at affordable prices.
This hotel offers one to four-bedroom suites that come with flat-screen TVs, DVD players, and Wi-Fi. These upgraded suites also come with full kitchens and a washing and drying machine to help you save.
What makes this resort stand out is the private balconies and the view of the nightly fireworks show held at Walt Disney World Resort.
Onsite you'll find four different dining options, with one being a pizzeria. To relax, enjoy one of the five onsite pools, hot tubs, and lazy river. Like other options in this list, there is also a park shuttle service available to get you to your dream destinations.
Top Neighborhoods in Orlando
The theme parks, particularly Walt Disney World Resort and Universal Studios Orlando, are massive. They are so large they stretch between towns. What this means for you is that there are many neighborhoods that you can choose from. Most hotels in these areas offer free shuttle services to the nearby attractions as well, so you can avoid the parking hassle and instead get right to your big day at the parks.
International Drive, also known as I-Drive, is a famous road in Orlando. The reason? It takes you directly toward all the action from Disney World to Universal Studios and even ICON Park. It's also where you'll find the Orange County Convention Center, which is a popular venue choice for businesses and industry organizers, so if you're in town for work, you will usually want to stay somewhere near this stretch of road.
Disney sits on two towns, Bay Lake and Lake Buena Vista. If you plan to spend a significant amount of your time at Walt Disney World Resort, staying in Lake Buena Vista can be the perfect option. Since hotels in this area are so close to Disney, and there are many that offer some very attractive room rates, this option is particularly popular with families.
Not only will you be right around the corner from the action, but the hotels themselves offer many great kid-friendly amenities like kid programs, clubs, games, and more. Some even offer daycare services, so parents can enjoy a spa package together or go out for an early dinner date.
Kissimmee is a bit further away from all the action, but it is also home to some of the more affordable accommodation options. If you want to stay somewhere comfortable, quiet, but still with decent connections to the theme parks, stay here.
Celebration is a unique area to stay in for one reason: it was originally designed by Disney itself. The area's design alone is enough to want to visit since it takes on some of that dreamy feeling that Disney is so famous for. Here you'll find some very popular hotels like the Bohemian Celebration.