Across different age groups, 54% want to see more video content from the brands they're following. And it's not just a demand for videos but visual content altogether. This opens a new door for marketing strategies using technology.
There's been a dramatic increase in marketers who commercially use drones within the past decade. That's because drones are capable of taking dynamic videos and images to promote your business. They can highlight your business's unique features to enthrall customers.
Small businesses would find it difficult to have their drone pilot so reaching out to FlyGuys drone services would help. These drone services have licensed drone pilots who are available worldwide. And with the demand for visual content, the Return on Investment (ROI) will be well worth it.
Here, we'll discuss everything small business owners need to know about drone marketing. We'll talk about drones, marketing strategies, and the rules surrounding drone operation.
What is a Drone?
A drone is defined as an aircraft that's remotely piloted which is why it's alternatively called "unmanned aerial vehicles" (UAV). You may also find autonomous drones but those are in the latter stages of development.
Originally, drones were made to be safer and more affordable alternatives to manned military aircraft. While they still serve the same purpose, they're also popular as consumer toys and tools for marketing purposes.
Drones come in different shapes and sizes but their core elements are the same. They all have batteries, microcontrollers, motors, and sensors to work. They were made using parts from smartphones so investments in this area in the past decade drove drone prices down. Hence, drones have become more accessible to consumers and business owners.
You can think of them as smartphones that can fly or move with remote controls. Because they can connect to the internet, they can serve as a platform for different software. You can also build various applications and business models with them.
One such business model is FlyGuys where they have licensed drone pilots to accomplish your commercial needs. They offer services for industries like construction, industrial, agriculture, and energy. They can also use their drones for emergency cases. Here we will see what drones can do for different industries and how piloting one is in itself a marketable skill.
How Are Drones Used for Marketing?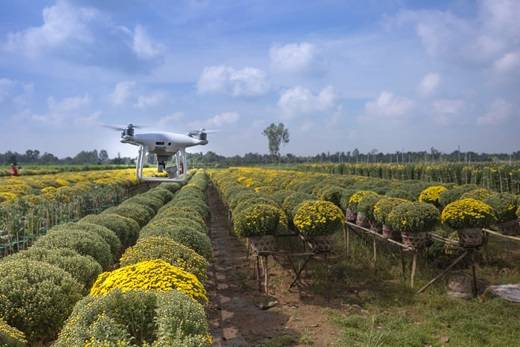 1. Aerial Imaging and 3D Mapping
Drones are capable of aerial imaging and 3D mapping because they can survey the area from above. They can map out areas more efficiently than a surveyor on foot.
Farmers use drones to survey the crops which helps them make data-driven decisions. And miners use drones to survey caves, avoiding risk to their employees.
In marketing, drones can create videos of your company with a bird's eye view. You can make interesting and breathtaking clips without needing to pay for more staff or renting out equipment.
Aerial imaging is also great for website design. Taking aerial shots of your company's exterior can make great homepage images. And aerial shots of your interior add depth to relevant pages. Overall, professional images taken by drones will make your website look competent and clean.
2. Drone Video Footage
The value of drones shines bright regarding the footage they take. Drone footage is considered a quality check used by viewers for your brand. High-quality drone footage can equate to a high-quality brand.
You don't need to worry about the entire drone footage needing to be of high quality. You can splice the drone footage into your interview-style video. By masterfully cutting into these shots, even the smallest business can look larger than life!
That said, the quality of your drone footage matters a lot. It's just like baking where the ingredients should have high quality for high-quality output. For example, having shaky shots because of high wind won't engage your audience.
3. Drone Light Shows for Marketing
Drone light shows are a growing marketing trend across the globe. With the level of disposable income rising, people are excited to spend on big festivals. Especially with social media, these festivals get more recognition and promotion.
You can use this tactic in marketing where you use the light show's popularity to promote your business. You can even incorporate EDM to make it even more popular and mainstream.
This requires the use of various technologies and innovations for drone exhibits, like customized drones. Customized drones are a huge expense, however, so you can opt to hire drone services instead. They have licensed drone pilots and specialists who can help achieve your goals.
What Are the Rules and Regulations Around Drone Operation?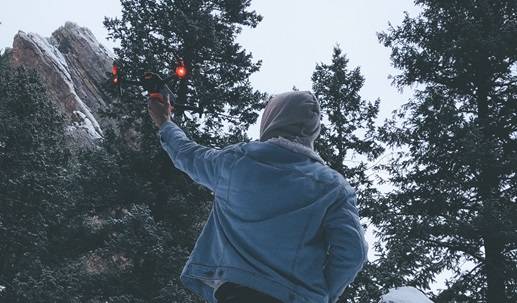 There are certain restrictions on the use of drones and other UAVs for commercial purposes, especially in the US. If you want to be a drone pilot, you need to register your drone with the Federal Aviation Administration (FAA) and it's valid for three years. Keep in mind that you need to be at least 16 years old to operate a drone.
Secondly, you need to have passed the aeronautical knowledge exam for "Unmanned Aircraft General — Small (UAG)". You shouldn't be flying near airports, national parks, and other restricted areas.
When it comes to altitude, your drone is not allowed to fly over 400 feet in the air and should weigh less than 55 pounds. If it's heavier than the required weight, you can apply for an exemption.
Finally, if you're flying over people, your drone shouldn't go beyond 0.55 pounds and should have no exposed rotating parts.
Overall, being a drone pilot takes a lot of work so if you plan to hire one for your business, you'll know it's worth the investment. You're paying for skills and credibility that were built over time and have conquered a series of tests.
Conclusion
Drones are used in several industries for various purposes, but they have their general uses. For example, surveying, aerial videography, and data transmissions are some common uses for them.
In the construction industry, drones can monitor the area and structures so the people in charge can make informed decisions. In agriculture, drones are used to get images of crops so farmers won't struggle in inspecting all of them.
In marketing, the drone's ability to make stunning videography is utilized most due to consumer demand. Whether it's social media or web design, drones are worthy investments to boost your digital marketing strategy.
As a small business, you may feel daunted to hire drone services but investing in quality work early will pay off later. Think of the ROI that drone marketing can bring if done professionally and how your prospects will see you. It's no exaggeration to say that drone marketing is the future and who doesn't want to be part of it!
Also read about –
How to Create Stunning E-commerce Sites and Apps
Pro Tips To Decorate Your Garden With Lights
Ways To Boost The Cognitive Development
Also Read About –
Military Personnel Save Tax
Reasons You Should Consider Buying Pet Supplies Wholesale
SEO Trends 2022