Winter is here, and with it comes a host of hazards on the road. For drivers, this may not be the best news. Winter often means navigating snow-filled roads which have many hazards. This is especially challenging for truck drivers in their different types of trucks.
If you think driving in winter is hard, you should try driving in a trailer or semi-trailer truck. Large commercial vehicles are more difficult to maneuver in snowy and icy conditions because they are rear-wheel drive vehicles.
The challenge with rear-wheel drive vehicles all boils down to weight distribution. Since the engine is at the front, the rear wheels do not get enough weight on them. This means you cannot confidently accelerate on a slippery road because there's a high chance you will lose traction and possibly fishtail, causing an accident.
Reports show that 107,000 large trucks were involved in accidents resulting in injuries in 2020. Most injuries occurred to occupants of the other vehicles that were in an accident with commercial vehicles.
However, truck drivers can greatly reduce their risk of semi-truck accidents and legal liabilities. This mostly involves understanding the common road hazards and implementing safety strategies. The leading cause of death for truck drivers is careless driving and unsafe practices. These unsafe practices include drowsy driving and failing to wear a safety belt.
Practicing safe driving is one way of reducing semi-truck accidents, however, there will be times when some things may be beyond your control. You have to worry about other road users and the environment as well. One of the biggest hazards during the winter is slippery roads.
Snow and ice can make it difficult for truck drivers to maintain control of their vehicles. This makes a significant impact on the odds of a road accident. Truck drivers should always be aware of the weather conditions and adjust their driving accordingly. Let us look at some strategies truck drivers should use to stay safe:
Inspect Your Truck
You need to make sure your truck is in the best condition. And yes, you might already be doing that. However, you should consider increasing the frequency during winter. Truck accident lawyers are thorough in their work and know what to look out for in truck accident cases.
You can begin by ensuring your tires are in good condition. This includes checking the wear on the tires and replacing worn-out tires. You should also check your tire pressure and balance your wheels. Next, check your wiper blades and defrosters. Ensure that they are functional and that the wiper blades are free of snow and ice.
Ensure that you check your battery and top up your fluids while at it. It is also crucial to ensure that all your lights are functional. When you finish inspecting your truck, keep the records safe. You can use an app or take a picture of the document. This will come in handy during any legal process in the event of an accident.
Make Improvements
Since you already know about driving difficulties on snow. You can begin by adding cinder blocks or sandbags to the back of your truck. This increased weight will help add traction to your rear wheels and increase stability.
You can use winter tires, tire chains, or tires with a higher tread depth. These tires will improve traction and give you better control. A snow plow in front of the trailer may also come in handy. Snow plows clear the road ahead so that the trailer can pass with ease.
There are more modifications you can make to your truck, however, you may need a permit for some. Thus, make sure you check the laws of your area before making changes to your truck.
Check the Conditions Ahead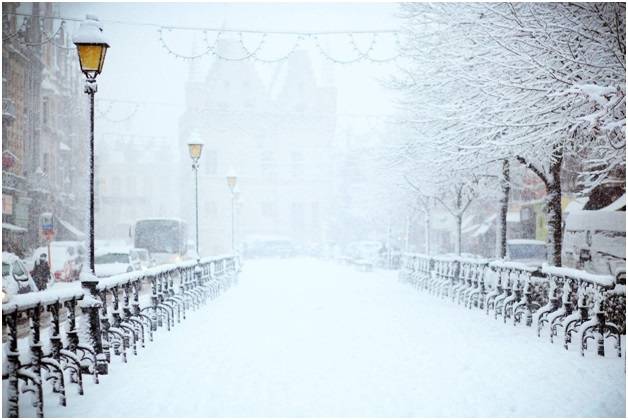 Driving on an icy road is already hard enough; imagine driving through a storm. The weather conditions may vary depending on your route so it is always good to know what lies ahead. This information may help you avoid accidents and potentially save your life.
You can get information from different sources on the road. You can use satellite radio, a citizen's band radio, and telematics. The information from these sources gives you a better perspective of what lies ahead. You can adjust your route and avoid certain areas based on this info.
Adjust Your Driving
You need to adjust your driving mannerisms to suit the winter conditions. This entails driving slower and maintaining distance from other vehicles. You are more likely to lose control while driving on snow due to sharp movements, sudden acceleration, or deceleration.
Driving at slower speeds reduces the effort it takes to bring the truck to a stop. Brake earlier than you do in fair weather conditions to avoid losing traction. You should also leave a gap between you and the driver in front of you. This will give you more time to decelerate without jamming the brakes.
Use Your Lights
Snow may be accompanied by fog or other weather conditions that make it difficult to see. Therefore, it is advisable to keep your lights on at all times, including during the day. This will help you see better as you drive in the snow and also enable on-coming traffic to see you.
Additionally, truck drivers should be extra cautious when entering areas with reduced visibility. These include areas such as tunnels or construction zones. You can turn on your hazard light to increase your visibility. Additionally, you should ensure that you adhere to the winter trucking signal rules of using four or five blinks before you change lanes.
Conclusion
Trucking is a difficult job filled with challenges, and it only gets worse in the winter. This is because of the nature of the roads and the vehicle design. According to research, truckers are involved in many accidents annually.
There are actions that truckers can take to reduce accidents and legal liability. First, drive carefully, inspect your vehicle before trips and use your headlights while driving. Gathering information about the weather conditions ahead may also help you avoid an accident.